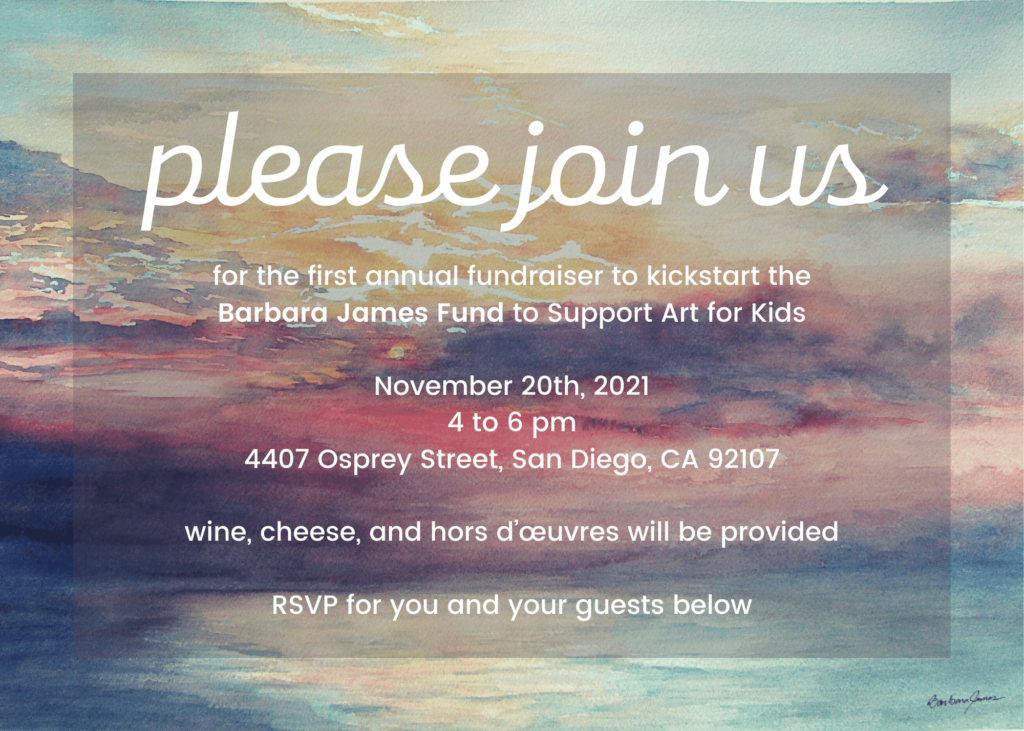 Dear friends and family of Barbara James,
We are writing to tell you about the inaugural fundraiser for the Barbara James Fund, which will provide vital financial support for ArtReach's programs at Title I schools throughout San Diego County.
ArtReach is a 501c3 non-profit organization dedicated to arts education equity for all young people, regardless of zip code or socioeconomic status. Their unique approach ignites the creativity that resides within each young person through a blend of visual arts education and social-emotional learning strategies. They build confident, creative problem solvers that know mistakes are opportunities, and that their next big success is on the other side of trying.
The need is great and there are numerous qualifying schools that want to participate but absent additional financial resources ArtReach cannot include them in this fabulous program. Our goal is to narrow and someday eliminate, that unfortunate gap between need and resources. To accomplish this goal, we have established, within ArtReach, the Barbara James Fund.
We will be matching all contributions to the Barbara James Fund with the goal of raising a total of at least $50,000 for this worthy cause. If you are unable to attend, please consider supporting the ArtReach mission. Donations may be made at artreachsandiego.org/donate or mailed to ArtReach, 2399 5th Avenue, San Diego, CA 92101.
With great respect and gratitude,
Danielle, Nicole, and Steve