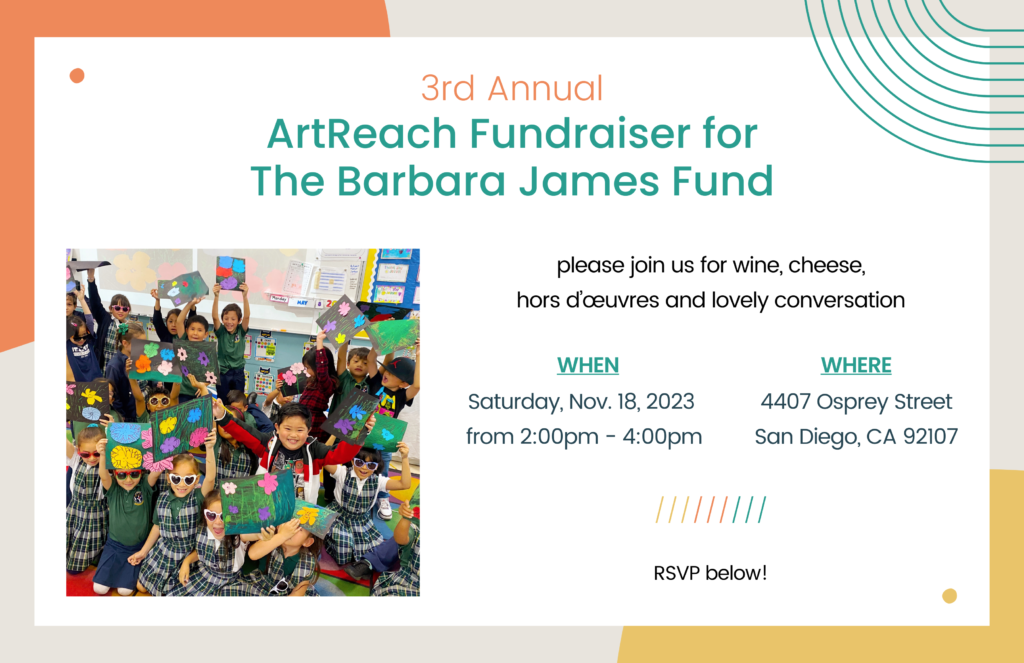 "When I make art, I feel creative and like I can express what I want in ways that can be observed and perceived differently. Art has taught me that one piece of art can be interpreted in various ways." -ArtReach Student
Dear friends and family of Barbara James,
I hope this letter finds you in good health and high spirits. I am writing to you today with gratitude and hope, seeking your renewed support for a cause close to my heart – the Barbara James Fund at ArtReach. On behalf of the 1,300 young people who accessed free visual arts classes through The Barbara James Fund for ArtReach last year, thank you. Your choice to celebrate her legacy is so valued, treasured, and important.
The Barbara James Fund for ArtReach San Diego was established to honor Barbara's passion and love for art. This fund allows you to carry forward her lifelong mission, paving the way for young people's social-emotional development through art. Because of your phenomenal collaboration in Barbara's spirit, ArtReach is able to provide vital arts education classes at schools that would otherwise go without. Through these classes, we have witnessed the incredible impact art can have on a child's development – fostering creativity, boosting confidence, and instilling a lifelong appreciation for the arts.
As we look towards the future, we are filled with purpose and determination to continue this invaluable work. Please join us at 2 p.m. on Saturday, November 18th, at 4407 Osprey Street for the third annual Barbara James Fund fundraiser. If you cannot join us in person, please support the ArtReach mission by donating below or mailing a check to ArtReach, 2399 5th Ave, San Diego, CA 92101. For every $40 raised, ArtReach can provide one year of artmaking for a student. With your help, we can reach our goal of $80,000 to impact the lives of 2,000 children next year.
In creativity, joy, and gratitude,
Sarah Holbach, ArtReach Executive Director
PS – ArtReach would love to share more of their work with you. If you have questions or would like to discuss further involvement at ArtReach, please do not hesitate to reach out directly to Sarah Holbach, Executive Director, at 619.940.7278 or sarah@artreachsandiego.org.
Let's hear it from the kids // See how ArtReach programs spark creative expression and confidence: ArtReach Programs in Schools
For more about Barbara James and her incredible paintings: barbarajamespaintings.com
If you are unable to attend, support our mission by contributing to the Barbara James Fund.