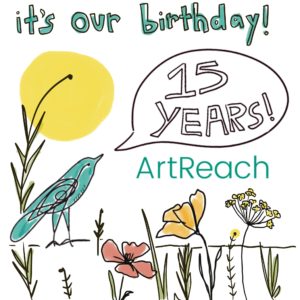 Join us for a year of celebrating ArtReach turning 15! It all started with two sisters wanting to connect artists with schools that lacked funding for visual art programs. Fifteen years later, ArtReach has ignited the creativity of over 60,000 students. It could not have been possible without your support.
There are many chapters that make up our fifteen-year story. Let's review, shall we?
15 years of providing visual arts education at K-12 schools across San Diego
14 happy little office plants tended by our talented Teen Mural Artist Apprentice
13 annual student art shows to exhibit art, connect with families, and celebrate youth creativity
12 dedicated board members that share their time and talents while upholding our vision
11 days off for winter break, giving our team of artists time to recharge for the new year
10 mural Artist Partners working with youth to transform their big ideas into reality
9 years of partnership with Knockaround to bring inspiration, free lessons, and sweet shades to our students
8 teaching Artists inspiring students to harness their artistic potential and apply it throughout their lives
7 full-time staff members who collaboratively engage 6,000 youth in visual arts experiences each year
6 new studio office workshops in 2022 led by local artists to provide accessible art lessons to our community
5 charity art auctions with upcycled items transformed into one-of-a-kind works of art by renowned artists
4 years of youth murals at schools and community centers with the ArtReach Mural Program
3 ArtWalk art festivals per year to connect with our community through visual arts
2 co-founders who had a vision that continues to be the core purpose of ArtReach today
1 mission to ignite youth creativity through visual arts expression and community connection
Thank you, thank you for being a part of our story. Stay tuned as we continue to celebrate throughout the year!

Have a favorite ArtReach memory? Share it with us on social media today by tagging @artreachsd and #artreachturns15.