ArtReach Unveils Over 100ft-Long Mural At Valley Elementary // The mural was created by ArtReach artists and over 100 students and depicts shared values of the school
NOVEMBER 19, 2021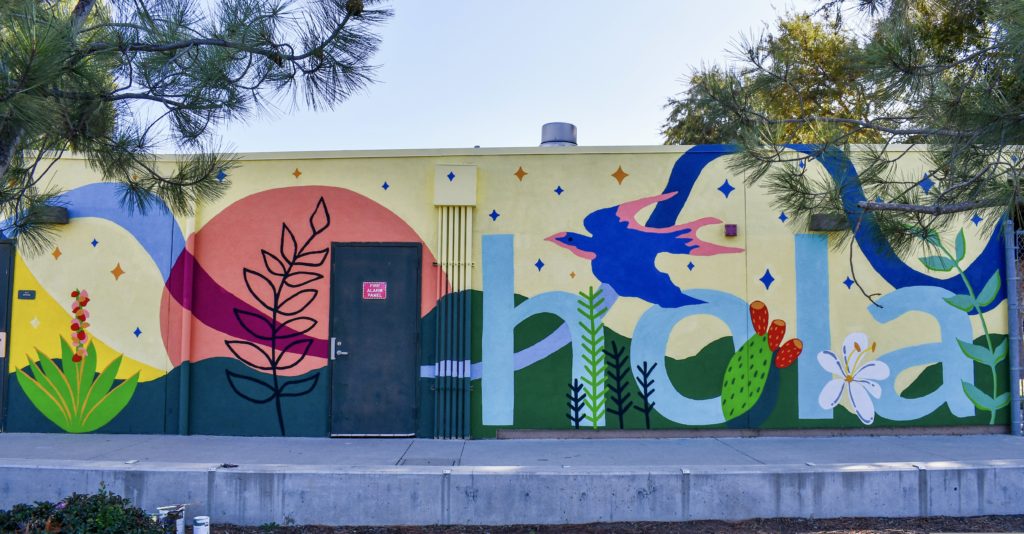 ArtReach, a nonprofit arts education program, unveils its latest mural at Valley Elementary in Poway created in collaboration with ArtReach teaching artists and over 100 5th grade students with a ceremonial ribbon cutting on December 2 at 8:30AM.
The mural was created through Art Reach's Mural Program that works directly with youth at schools and community centers to provide an opportunity for people to work together while creating something transformative and lasting for their site and that represents their vision.
The Valley Elementary Mural is 935 square feet and over 100 feet in length, stretching along the entire back of the campus. The design was created using words, drawings and ideas from students as well as school staff. Every 5th grader at Valley Elementary participated in the process.This massive two-wall mural brightens the campus and brings meaning through themes created by the students.
Movement, play, growth, sunshine, connection, and heart.
Designed by artist, Isabel Halpern, these are the main themes that can be seen. These themes not only have special meaning for the school, but they connect to the Poway community in a tangible way.
While looking at the mural design, one can read "Hola", "Haawka" and "Hello" which speaks to the importance and uniqueness of Valley being the only dual-language immersion school in Poway Unified. Additionally, it greets all, as this is a community park, with simple and welcoming greetings. Haawka means Hello in Kumeyaay, the original people on the land occupied by Valley Elementary. The imagery acknowledges the rich history of the Kumeyaay as well as some of the native plants in this area- yucca, agave, and the prickly pear cactus.
"This mural tells such a story of a school community pouring such love and pride into a campus that was craving inspiration and renewal," said Valley Elementary parent to participating students, Nila Boquin.
A large anatomical heart is nestled in student-drawn flowers. The heart is the centerpiece of the mural as the "threads of kindness" emerge and flow throughout — uniting and connecting all elements in the design. The connecting thread also serves as a "finish line" for the figures running on the left building. Not only does Valley have a running club, but this element also celebrates achievement, movement, goal setting, and going after our dreams. Many students drew rolling hills of Poway and twinkling stars.
"Valley Elementary was a wonderful school to paint a collaborative, youth-driven community mural," said Isabel Halpern, ArtReach Mural Program Manager. "In addition to the entire 5th grade class, we had over 20 parent volunteers who dedicated their time to help paint and make this big undertaking possible. I hope participating students remember that nothing can replace treating others with kindness."
"There is a certain kindness that grows out of learning and communicating to others in another language," said Ricardo Cecena, Valley Elementary Principal.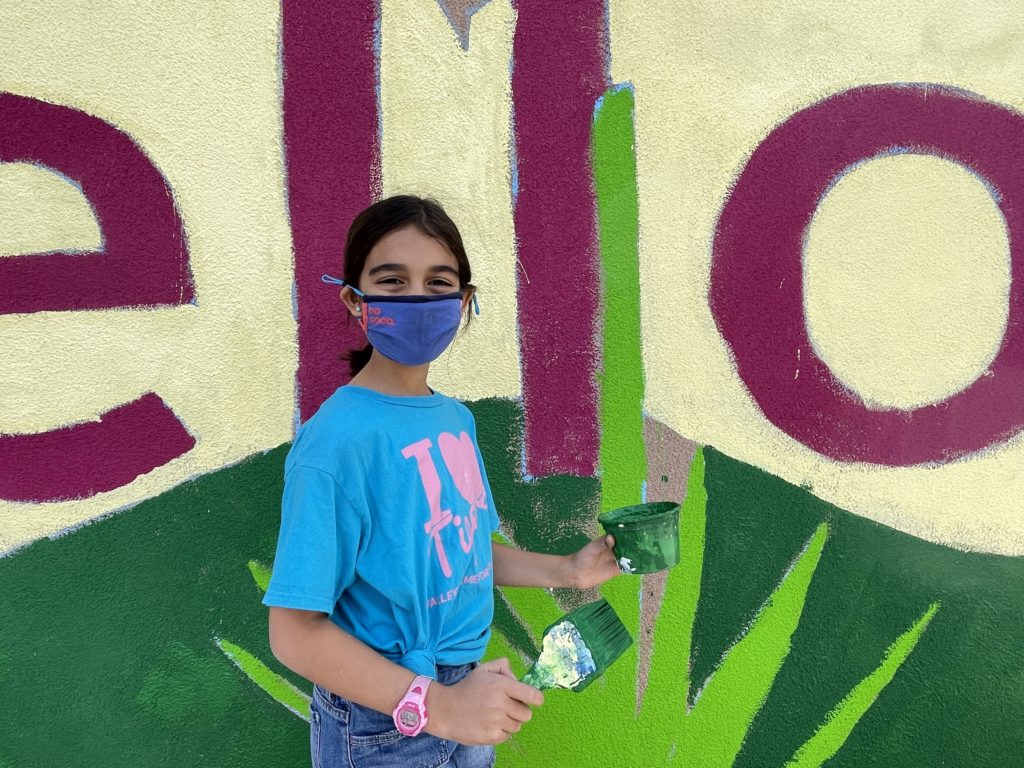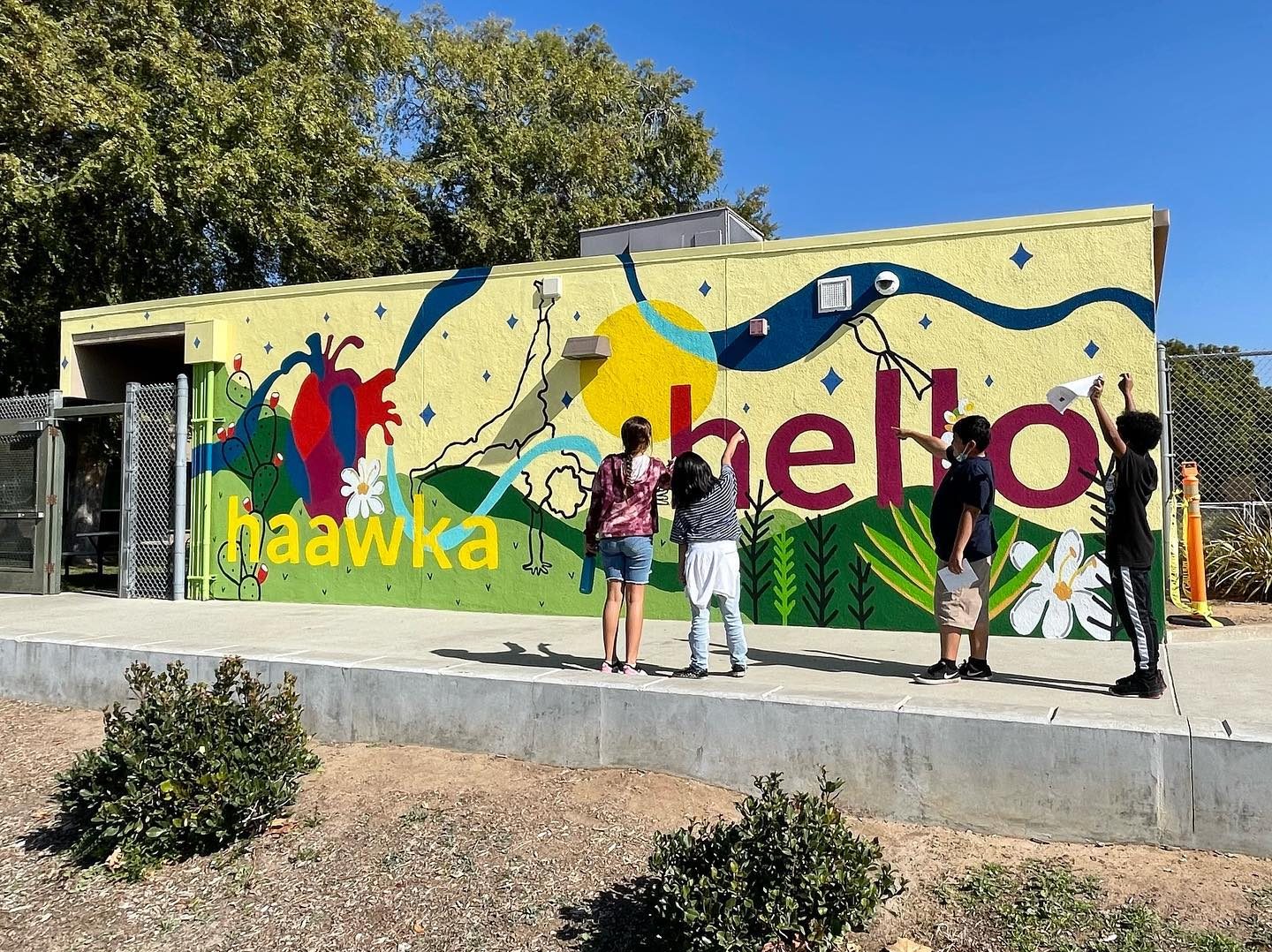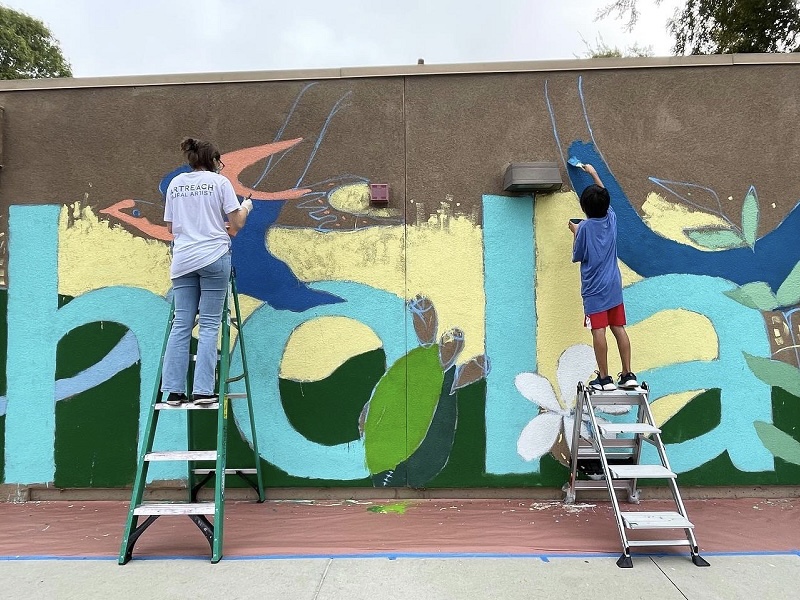 Notable partners include Tah Dah Foundation, who helped fund part of the mural, Colorama Paint and Supply, who donated all of the paint and new paint brushes for students to keep, and Knockaround, who donated a new pair of sunglasses for every 5th grade artist to keep.