College Area and Rolando residents of all ages worked together to paint a vibrant mural on the wall of The Little Flower, a floral shop located at 5547 El Cajon Blvd.
KAREN AUSTEN | COLLEGE TIMES COURIER
JULY 14, 2023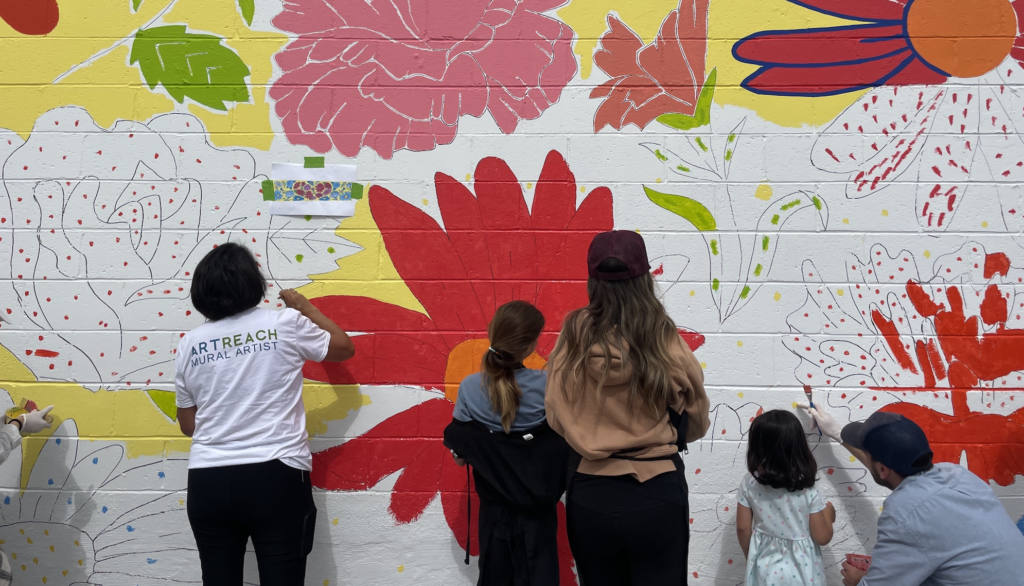 The public art project was funded by the College Area Community Council and College Area Business District in partnership with ArtReach, which provides in-class arts education and encourages community connections through its mural program. The mural design was envisioned by El Cerrito artist, Regan Russell, inspired by the shop's motto, "From the Heart!".
Click to read the full article online
The summer season in College Area began with several great events and there's more to come. On June 24, community members had the chance to help paint a mural on the long, outside wall of The Little Flower at 5547 El Cajon Blvd.
Community members shared their time and their talent to help make the new public art piece so striking. The colorful mural was the result of a collaboration with ArtReach, a visual arts education program focusing on social-emotional learning and community connections through in-class programs, and the ArtReach Mural Program. This project was funded by the College Area Community Council and the College Area Business District.
Regan Russell, an artist who happens to live in the El Cerrito neighborhood of College Area, created the mural concept with inspiration from the core business value of this wonderful local florist. Maria Elena Grimm established the shop in 2014 and says their business slogan is, "Designs are created especially for you from the heart."
The Little Flower is also a recipient of the City of San Diego's Storefront Improvement Program. This additional opportunity provides small business owners with a no-cost design consultation and reimbursement of half of the cost to revamp their front facade, up to $8,000. Please visit our College Area Business District to see the beautiful new mural and storefront improvements at The Little Flower.
While some community members helped paint the mural, other community members were painting and planting pots at the College-Rolando Library's Gardenpalooza, including a succulent swap and other environmentally-friendly fun.